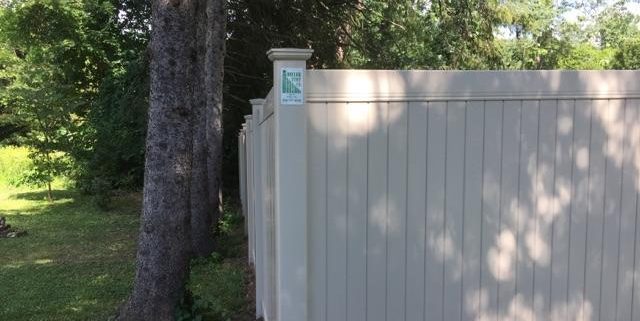 Vinyl privacy fence installation recently completed in Boylston MA. Almond New Lexington by CertainTeed is a great way to get the durability of a vinyl privacy fence, but without the "shine" of a white vinyl. It will hide dirt much more than the white, not be so bright in the sun but still have the lifetime fade warranty, and a 5 year parts and labor warranty.
Also featured with the New Lexington vinyl privacy fence installation is a 70 m.p.h. wind load rating through the Miami-Dade County "Florida Hurricane Test". Cemented 3′ in the ground and a galvanized steel stiffener in the bottom rail will ensure that it will withstand the harsh New England winters, and the dog days of summer. Tongue and groove boards provide the privacy that a weathered wood fence simply can't. Last but certainly not least, almond New Lexington vinyl privacy fence installation costs less upfront than most wood fences, and definitely costs less over time.
CertainTeed vinyl privacy fence installation is our top style of fence we install. With tight lots and properties, pools, pets, and children, people will often come to us to ensure they can get the privacy they seek without breaking the bank.