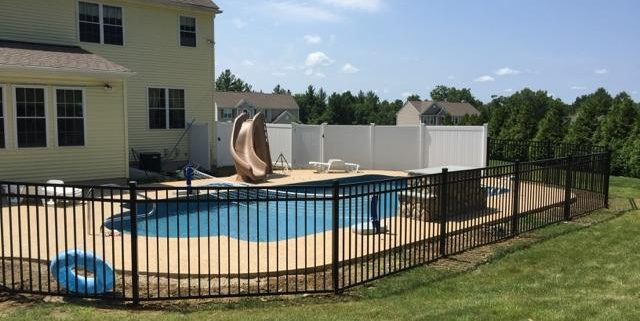 This recent pool fence installation in Upton MA features two of our most common styles of pool fence. The 6′ white privacy fence by CertainTeed is called the New Lexington. Cemented 3′ in the ground and with a galvanized steel stiffener in the bottom rail ensure the fence will not sag. The 70 m.p.h. wind load rating through the Miami Dade County (Florida Hurricane Test) promises to keep the fence standing for years to come. Lastly, the industry leading 5 year parts & labor warranty guarantees that if any parts break due to manufacturer malfunction, they will give us the part and they will pay us to take care of it.
The black aluminum is a 54″ Storrs style by Specrail and has 3/4″ Pickets along with 2 1/2″ Posts. Minimum height requirements for a pool fence installation is typically 4′ if there are only 2 rails horizontally, but if there are 3 rails, the 2nd rail has to be at least 45″ above grade. Although these are the national codes, and some towns have their own regulations as well. The bottom rail also must be flush and can't have any more than 4″ of space from it and the ground.
Pool fence installation is a large bulk of our projects every year. Experience and quality are two things that are extremely important when dealing with a large investment like a pool.